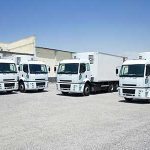 Choosing the right vehicles for your fleet can have a big impact on your productivity and your profitability in the competitive marketplace. Working with an established commercial fleet leasing company can allow your business to access professional guidance on the right vehicle options. Here are a few key questions to consider when selecting fleet vehicles that will make up your commercial fleet.
How Will Your Vehicles Be Used?
Before choosing a fleet vehicle, you should take a hard look at how will your vehicles be used. In particular, you should ask these questions:
Will my fleet vehicle need to go off-road?
How many passengers will it need to carry?
Do you need space for specialized equipment or tools?
How many miles do you expect your fleet vehicle to travel each year?
Determining the answer to these questions can help you narrow down the choices for your fleet vehicle acquisitions.
What Type of Vehicle Do You Need?
Fleet vehicles come in a wide range of configurations from compact cars to big rigs. Considering how you will use your vehicles can give you a good head start on making the most practical choices for your fleet. Budget considerations can further narrow down your options and help you make the best possible decision about your commercial fleet acquisitions.
Do You Plan to Buy or Lease?
Deciding whether to buy or to lease your fleet vehicles can be a challenging proposition.
Commercial vehicle leasing arrangements can offer enhanced financial flexibility for your business. Working with an established fleet leasing company can ensure that you enjoy the most cost-effective choices for your business operations.
Acquiring your vehicles outright can allow you a greater degree of autonomy in choosing which cars and trucks to retain and which ones to drop from your fleet. Depreciation of owned vehicles can also provide tax benefits for your company.
Your fleet management company can provide you with expert guidance on the right option for your business needs.
What Maintenance Facilities Are Available?
The availability and locations of manufacturer-approved maintenance facilities can be an important consideration when selecting commercial fleet leasing vehicles. In many cases, your fleet management specialist can advise you on the most practical choices for maintaining your vehicles in accordance with manufacturer recommendations.
The experts at Glesby Marks can provide you with customized fleet leasing and fleet acquisition services designed to suit your company's specific needs. We offer heavy equipment leasing and upfitting services to ensure that you receive the precise services needed for your fleet vehicles. Call us today at 1-800-482-9498 to discuss your fleet acquisition and leasing needs. We look forward to serving your commercial fleet leasing needs.