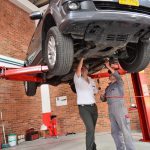 Fleet maintenance is a business investment that has large rewards. Routine tasks and larger mileage-based tasks have practical and financial benefits. For business owners, preventive maintenance is the way to go. You will have happier employees, less downtime and fewer unexpected repairs. If you are ready to develop a fleet maintenance plan, follow these recommendations.
General Fleet Maintenance Checklist
Commercial fleet leasing agreements can include the cost of maintenance. Either way, it is good to know what is covered. To avoid breakdowns and to ensure maximum reliability, your vehicle maintenance program should address the following items.
Engine oil and fuel filter
Transmission fluid
Brake fluid and brake lines
Antifreeze and engine coolant
Muffler and exhaust system
Tire rotation and inflation
Suspension components
Drive shafts
Safety inspections
Windshield wipers
Signals and lights
Battery and electrical components
Tax-related depreciation
Mirrors and windows
Miscellaneous features
Avoiding Frequently Overlooked Maintenance Tasks
Some automotive systems are commonly overlooked during basic checkups. These components are important, so they deserve attention. For best results, make certain that your fleet maintenance program covers these systems.
Combustion and Emissions
Do not wait for the check engine light to illuminate the dashboard. If your commercial vehicle has combustion problems, it will fail state inspections. Maintenance technicians must check the valves, spark plugs, belts and hoses at regular intervals. The air/fuel mixture should also be adjusted, especially if you are moving vehicles between cities like Houston and Denver where there is a significant elevation change.
Heating and AC Maintenance
Air conditioning maintenance protects against mechanical breakdowns and refrigerant leaks. These problems require expensive repairs, but they are easy to prevent. Older refrigerant gases are bad for the environment, and it can be expensive to have the system recharged. Decreased air conditioning performance is also frustrating for employees who spend hours on the road.
Benefits of Commercial Fleet Maintenance
Preventive maintenance plans are less expensive than reactive repair strategies. One major repair will quickly wipe out the savings that was generated by skipping oil changes and periodic inspections. Your company can avoid breakdowns by following simple maintenance protocols. In most cases, commercial vehicle maintenance is a tax-deductible expense. Here are a few other financial benefits.
Improved gas mileage
Enhanced fleet safety
Fewer breakdowns
Fewer inconvenient repairs
Less downtime
Extended service life
Increased resale value
To learn more about commercial vehicle leasing and to have a customized maintenance program developed for your company, call Glesby Marks at 800-482-9498 to speak with one of our helpful staff members. We operate state-of-the-art facilities in Houston, Denver, Seattle and Portland, Oregon.