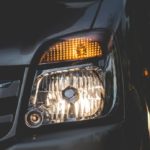 Your fleet drivers depend on their headlights to see and be seen during the evening and nighttime hours. Taking these lighting solutions into consideration when designing your fleet maintenance plan is vital to ensure that your drivers stay safer on the road. Studies conducted by the Insurance Institute for Highway Safety and other reputable organizations have shown that the use of headlights during daylight hours can reduce both the number of accidents and the severity of those accidents. Making sure your fleet headlamps are in optimal condition can be a solid safety move for your company. Here are three of the most important headlight maintenance tips for your flee.
Get the Yellow Out
Many of the most common issues with headlamps involve the lenses that cover these lights. Over time, the external lenses that cover headlamps can become yellowed or scratched up. New treatments can restore these lenses to their former pristine condition. By polishing away the film and scratches, you can ensure that your drivers can see and be seen clearly on the road. In extreme cases, it may be worthwhile to replace the lenses of your headlights as part of your Houston fleet maintenance routine.
Keep Things Straight
Misaligned headlights can not only reduce the visibility of your drivers but could pose threats to other motorists on the road. Improperly positioned headlights could potentially cause an accident by reducing the visibility of oncoming motorists. Checking the alignment of fleet headlights on a regular basis can prevent these unwanted events and can ensure the best performance from these vital vehicular components.
Brighten It Up
Over time, headlights can become less bright and less effective in providing clear visibility for your drivers. By replacing them before they burn out, you can ensure the best possible driving experience for your fleet operators and the highest degree of safety on the road. This can pay off in fewer accidents and lower insurance rates for your business.
At Glesby Marks, we offer commercial fleet leasing, fleet maintenance and management services designed to help your business enjoy greater success on and off the road. We offer one-stop fleet management and acquisition services that can streamline your maintenance and purchasing tasks. If you need comprehensive services to help you deal with scheduled maintenance, fuel management and fleet technology implementations, Glesby Marks can deliver the solutions you need. Call us today at 1-800-482-9498. We look forward to the opportunity to impress you with our expertise and our exceptional customer service.