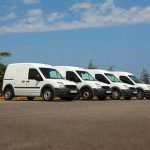 Choosing the right vehicles for your corporate fleet requires careful attention to detail. Even minor changes to the necessary specifications can cost you a considerable amount in refitting and preparing your fleet vehicles to accept the necessary equipment and upgrades. Working with a commercial fleet leasing company can ensure that you receive the most accurate guidance throughout the selection process. Here are some questions to consider when choosing your fleet vehicles.
How Will Your Vehicles Be Used?
If your fleet vehicles are primarily used to transport people from one location to another, extensive cargo room is unlikely to be a priority for your company. Truck fleet vehicles used mainly to travel from one worksite to another, however, will need to carry a fair amount of equipment and materials inside a sizable cargo space. If you expect to be hauling heavy loads on a regular basis, an upgraded chassis may be needed to manage these tasks. Determining how your drivers will most frequently use your fleet vehicles can provide you with added help in choosing the right options for your needs.
What Upfitting Will Be Required?
If you know you will need to upgrade your fleet vehicles to accommodate your business operations, consulting with a company that specializes in fleet maintenance and management services can help you choose vehicles that can take these upgrades with minimal reworking. By working with experts in the field, you can make sure that your vehicles are suited to the tasks for which you intend to use them.
Can You Standardize Your Requirements Across Your Fleet?
In many cases, finding ways to standardize the vehicles you choose for your fleet can allow you to realize significant cost savings over choosing your vehicles a la carte. Working with a company that offers comprehensive fleet management and leasing services can allow you to explore the benefits of bulk pricing for larger orders. This can also allow you to streamline maintenance processes and allow for greater interchangeability for these essential elements of your business operations.
At Glesby Marks, we work hard every day to ensure that we are the right choice for your fleet. We offer a full lineup of fleet management services that include heavy equipment leasing, vehicle acquisition, financing, logistics, fuel management and GPS tracking systems. Our experienced staff members can help you achieve greater control over expenses while ensuring the greatest productivity for your drivers. To learn more about how we can help you manage your fleet more effectively, give us a call at 1-800-482-9498. We look forward to providing you with the fleet vehicles and services your business needs.
Save