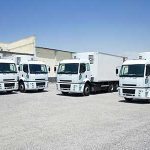 Forward collision avoidance and mitigation (F-CAM) systems are becoming more common in passenger vehicles, especially for luxury cars and trucks. The National Highway Transportation Safety Administration (NHTSA) has released figures that indicate that F-CAM systems could potentially prevent as many as 2,500 collisions and crashes every year. Your Portland fleet management company can provide you with added information on upgrading to F-CAM systems to enhance the safety of your drivers behind the wheel.
What Are F-CAM Technologies?
F-CAM systems combine the scanning capabilities of radar with automatic emergency braking to allow faster response times when unexpected obstacles arise. The combination of these two collision avoidance technologies can be very effective in helping prevent accidents and decreasing the impact generated by collisions that cannot be avoided. Because F-CAM systems work automatically, they can also reduce the role of driver error in causing accidents.
The Importance of F-CAM for Fleet Vehicles
F-CAM technology can be even more valuable for large corporate fleet leasing trucks. In 2017, the Truck Safety Coalition once again called for action by the NHTSA to implement regulations mandating automatic emergency braking for all trucks with a gross weight of five tons or more. In combination with automatic collision avoidance systems, these braking solutions offer improved safety for drivers and increased protection for other motorists. Experts estimate that comprehensive implementation of F-CAM technologies could prevent between 25 and 40 percent of crashes involving large trucks.
Barriers to Adoption
Unfamiliarity with these advanced technologies may prevent some trucking companies from making the leap toward automated systems for braking and detecting obstacles. The initial cost of F-CAM systems may also be a problem for smaller trucking companies operating on a thin margin of profitability. F-CAM systems can cost $2,500 per truck. The expenses involved in a single accident, however, can be many times that figure. A relatively small investment in these technologies now can save time and money later when the NHTSA does make F-CAM systems mandatory on large trucks. Your Portland fleet maintenance company can provide you with expert advice on the most cost-effective safety additions for your large-scale vehicles.
The Portland fleet management experts at Glesby Marks can provide you with the most effective solutions for upgrading your safety equipment and maintaining your fleet vehicles for improved performance. We work with you to determine the most appropriate technologies and the most practical ways to enhance driver productivity and safety. Our fleet management team can provide you with start-to-finish solutions for all your leasing, acquisition, maintenance and tracking needs. Call us today at 1-800-482-9498 to discuss your needs with our company. At Glesby Marks, we are here to serve you.