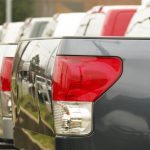 Rear-end collisions can cause damage, delays and reduced profitability for your fleet operations. Avoiding these accidents can help you manage your transportation needs more effectively. Your Seattle commercial vehicle leasing company may be able to provide you with solutions that can make your vehicles more visible. This can potentially reduce the risk of rear-end collisions and can boost the productivity of your drivers during their everyday routines. Here are some of the most effective strategies for reducing the risk of rear-end collisions in the Seattle area.
Increase Visibility
Making sure your fleet vehicles can be plainly seen from the rear is a good first step toward preventing rear-end accidents caused by other drivers. Some of the most practical steps you can take to ensure greater visibility for your fleet include the following:
Applying reflective tape around the rear section of your vehicle can provide an added level of protection and visibility for your fleet cars, trucks and vans during the nighttime hours.
Your Seattle fleet maintenance company can often upgrade the standard brake lights in your fleet vehicles to modern LED brake lights. These lights respond more quickly and provide greater illumination to ensure that other motorists can see your vehicles more easily during all hours of the day and night.
Adding a bold splash of color to the rear of your fleet vehicles can often serve to increase awareness of these cars, vans and trucks during daylight hours.
These simple equipment upgrades can make a big difference in the safety of your drivers and the visibility of your fleet on the road.
Drive Defensively
Investing in a defensive driving course for your fleet drivers can have a positive impact on their ability to avoid causing or being caught in rear-end collisions in and around Seattle. Driving defensively can often allow your drivers to spot dangerous conditions before they result in an accident. These courses can also provide added skills that could help your drivers manage their time more effectively and to stay safer in all sorts of driving situations. By spending a little time and money now, you could reduce your corporate insurance premiums and avoid much of the cost associated with accidents and injuries that could occur on Seattle streets and highways.
At Glesby Marks, we offer the most comprehensive Seattle fleet management services for your company. From Seattle commercial vehicle leasing and acquisition to regular maintenance and fuel management solutions, we can deliver the right arrangements to help you manage your time and money more effectively. To learn more about our extensive lineup of services for Seattle, Portland, Denver and Houston companies, call us today at 1-800-482-9498. Glesby Marks is committed to being the right choice for your fleet.