Fleet Solutions | Maintenance – National Fleet ID Card
Providing improved management of maintenance activities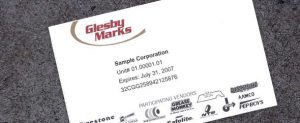 The Glesby Marks fleet management services team will help you set up a Fleet ID Card Program that allows drivers to manage routine maintenance and fuel expenditures more quickly and effectively. Our Fleet ID Cards can be configured in a number of ways to suit your company's preferences. Your drivers can take advantage of our established network of approved vendors for items and services that include the following:
Tires and tire repair services
Batteries
Auto glass repair and replacement
Preventive maintenance services, including oil changes
Transmission repair
Emergency mechanical repairs and roadside assistance services
The Glesby Marks Fleet ID Card Program can be adjusted to include vendors and repair shops preferred by your company within your community. This can provide you with added connections to local businesses and can help you establish long-term relationships with quality vendors.